Moderator: Endru1241
Posts: 13
Joined: Sun Nov 11, 2018 9:42 pm
Location: Athens,Bizantine Empire
Hi. I have idea. This is trier from Phoenicia. Look: Good?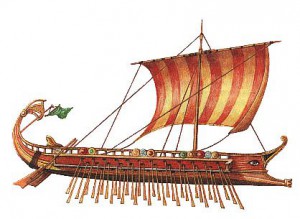 http://www.enjoy-school.estranky.cz/img ... iera-1.jpg
Hi. Im a bizantine soldier. Im a fan of AoS. I look for help.
---
From the look of the image you have posted, it seems that the warship is a Bireme (Two banks of oars). So is this a new unit being suggested?
A thousand may fall at your side,
And ten thousand at your right hand;
But it shall not come near you.
Only with your eyes shall you look,
And see the reward of the
wicked
.
---
We have a ship like this in game
---
Site Admin
Posts: 10400
Joined: Fri Apr 25, 2014 9:28 pm
i have replaced image with link from the net - please usee links when u post images from internet.
---